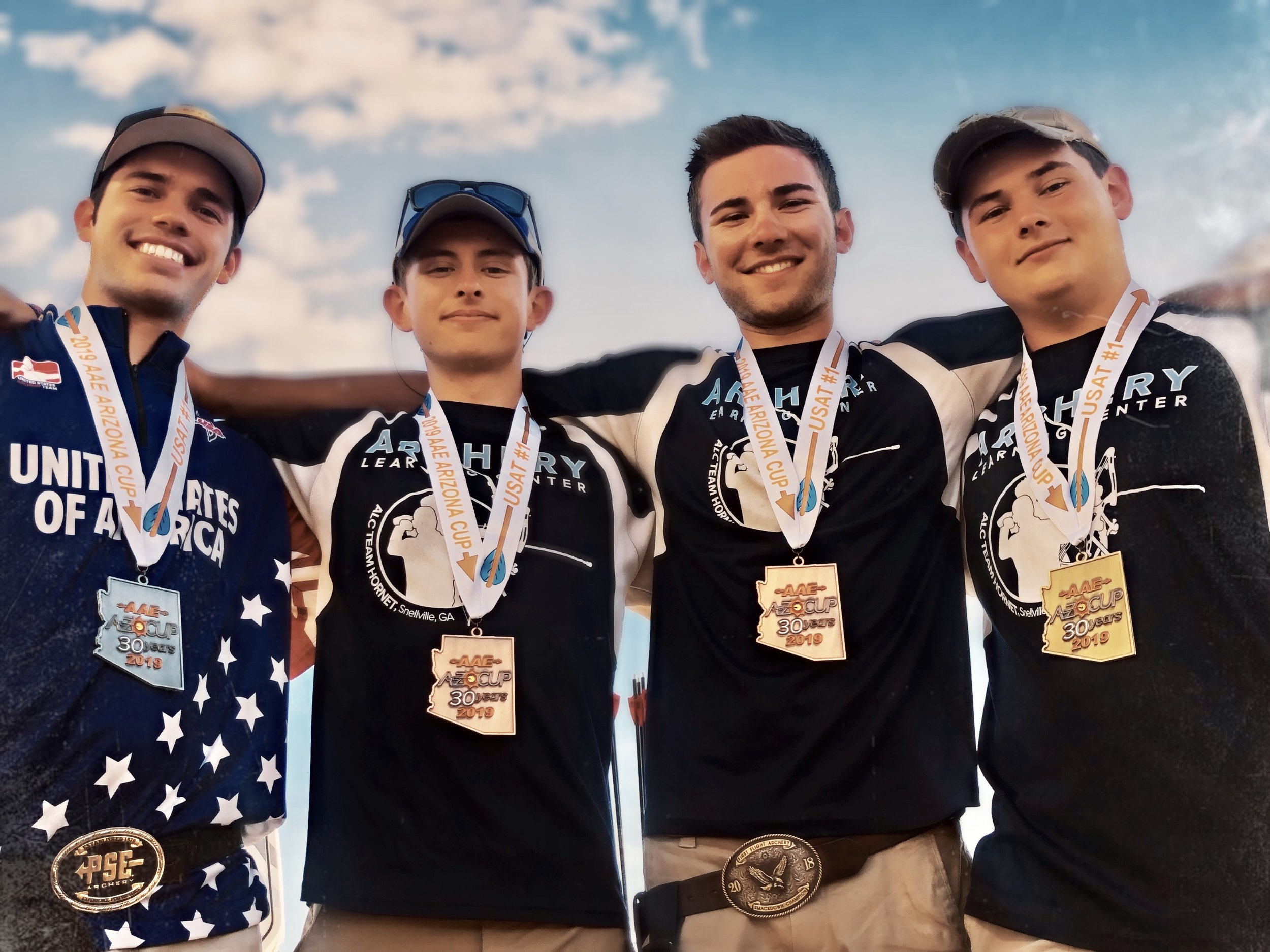 The Hornet Archery Team
The Hornet Team is a group of dedicated archery athletes that have risen up through the ALC JOAD program to become archery competitors and life long archers.

The Hornet's are a top team of archers who grew out of our JOAD program. The JOAD program has two levels. The most basic shooters are Honey Bees. They learn the basic "pull back and let go" and learn how to be safe as archers. Once they get basic proficiency, can load and control the bow without direct assistance, and can group, we graduate the Honey Bees to the Yellow Jacket Program. The Yellow Jackets shoot at longer distances, earn JOAD pins, and learn to be competitive archers. This group of kids is who we watch to identify those that are archery crazy. When a Yellow Jacket shows that archery is more than a one day a week sport for fun and they wish to achieve higher goals, we invite them to try out for the Hornet Team. Hornets distinguished themselves from the group through hard work and dedication to the sport of archery. They also can meet the minimum qualifying scores to make the team. The Hornet kids work very hard on their archery and typically shoot up to a thousand arrows a week while working on their goals.
The Hornet Team has collected 7 World Championship Medals, 50 National Championships, 6 Grand National Championships, and Numerous Regional and State Championships. Some Hornets have also made the USA Archery Junior Dream Team. The Hornet Team is three levels. The Black Team is our National Champions, record holders, and archers that can maintain a very high average score that is at or above the national average for podium finishers. The Blue Team is the intermediate level of the program. Most of these kids are state and regional champions and are top competitors on a local level. The White Team Hornets show tremendous promise as an new archery athlete and are taking the first steps to becoming an archery champion. Hornets re-qualify every quarter for their position within the Hornet team.
You can help our mission to provide a positive experience to junior archers around the country and around the world. We use the team archery experience to teach life lessons that stick with juniors for the rest of their lives. Your donation can help us provide fresh targets, equipment, coaches, and cutting edge tools to make the Hornet Team as successful as possible in archery on a world level. Thank you for supporting us and joining in on our cause.